HYDRAULIC PLATFORM LIFT SPECIFICATIONS:
| Safety Working Load | : 500 kg - 800 kg |
| --- | --- |
| Travelling Height | : Available based on customer's need |
| Platform Size (mm) | : (L) x (W) - Customized sizes are available based on customer's need |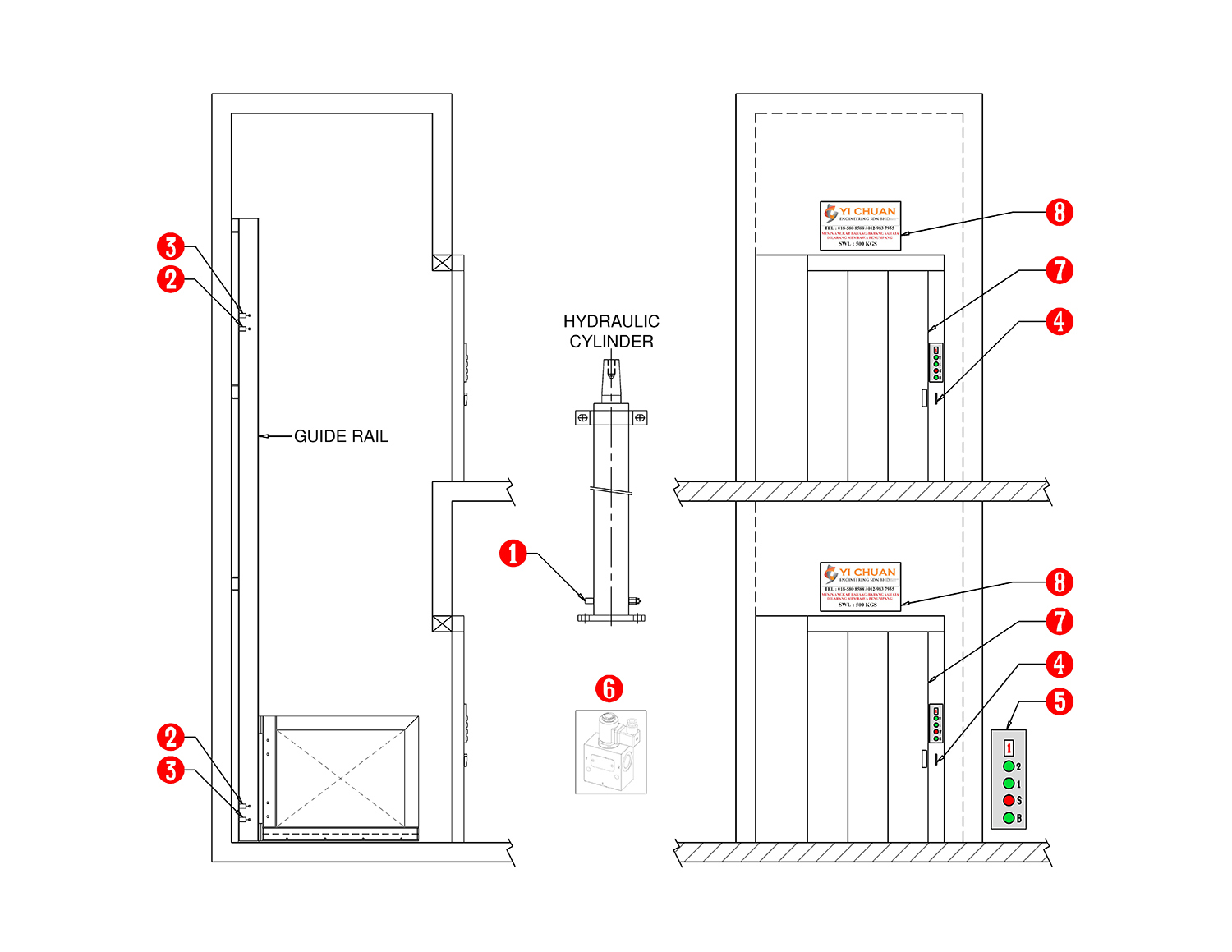 Click To Enlarge
SAFETY FEATURES
1. HOSE BREAK VALVES
Hose break valves are installed into each hydraulic cylinder to stop sudden lowering in the event of hose break or power failure.
2. FINAL LIMIT SWITCH
To ensure precise landing at desire floor of the platform lift.
3. OVER LIMIT SWITCH UP / DOWN
To prevent overhoisting and overlanding of platform lift at top and ground floor.
4. LANDING DOOR WITH MECHANICAL INTERLOCK SYSTEM
To prevent doors from opening during platform lift operation.
5. EMERGENCY STOP AND CALL BUTTON
To cut off main power supply to motor immediately during emergency and call button for platform call.
6. PRESSURE RELIEF VALVE
Fluid pressure in the hydraulic system is being limited to desire maximum level by means of pressure relief valve.
7. LANDING DOOR SWITCH
To ensure that the door are completely close before running because goods hoist will not running if door not perfectly close.
GENERAL
All platform lift are design with full of standard features to enhance reliability, durability and safety during operation.
Design, safety features and strength approved by DOSH.
Suitable to be installed at warehouses, factories, service line and shop lots.
Suitable to be installed at small & limited area.
Lift pit not required for this platform lift. It is very convenient if the place is not allowed to make a lift pit.