GOODS HOIST SPECIFICATIONS:
| Safety Working Load | : 500 kg - 2000 kg |
| --- | --- |
| No. of Stops | : 2 stops - 6 stops |
| Cage Size (mm) | : (W) x (D) x (H) - Based on DOSH requirement : (W) x (D) < 3.5m2 |
| Travel Height | : Max. < 12m |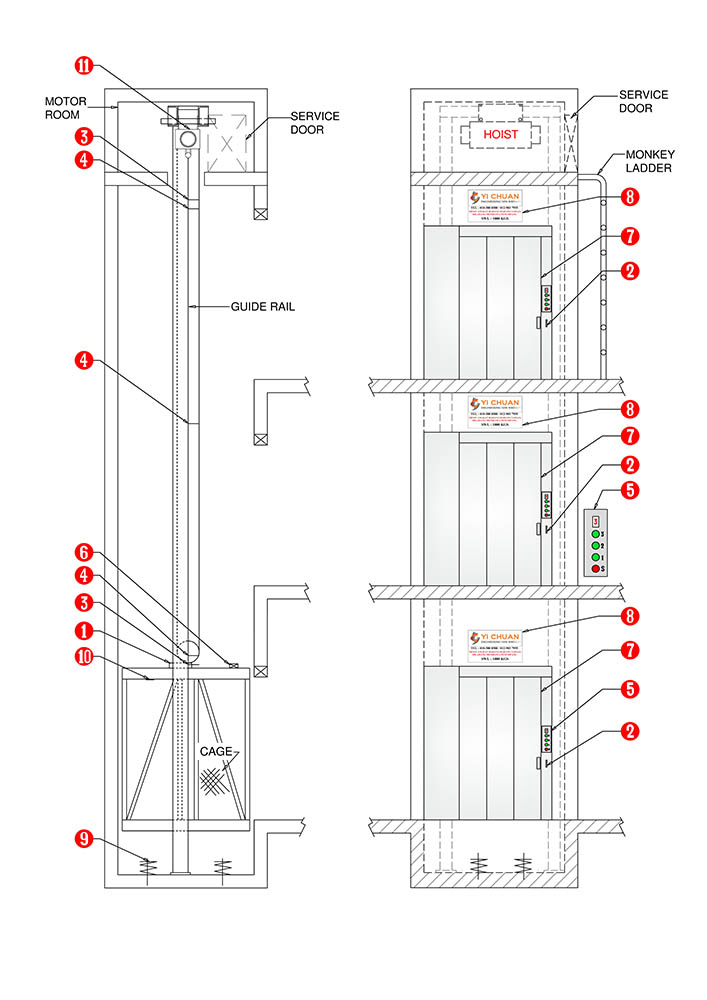 Click To Enlarge
SAFETY FEATURES
1. SAFETY CATCH MECHANISM
To hold cage from free fall in case of wire rope broken / snap.
2. MECHANICAL DOOR INTERLOCK
To prevent doors from opening during goods hoist operating.
3. OVER LIMIT SWITCH UP / DOWN
To prevent overhoisting and overlanding of goods hoist at top and ground floor.
4. FINAL LIMIT SWITCH
To ensure precise landing of cage at each level.
5. EMERGENCY STOP AND CALL BUTTON
To cut off main power supply to motor immediately during emergency and call button for cabin call.
6. BUZZER
To indicate the arrival, overload and emergency during operational.
7. LANDING AND CAGE DOOR SWITCH
To ensure that the door are completely close before running because goods hoist will not running if door not perfectly close.
8. WARNING SIGN
To indicate notification and safe working load for operation.
9. BUFFER SPRING
To minimise the noise and damage of goods hoist when free fall occurred.
10. DOWN LIGHT
Allows equal light distribution inside cage.
11. HOIST WITH OVERLOAD DEVICE
To prevent overloading of goods before operation to ensure capacity not over from SWL.
GENERAL
Many years of hardwork involving experienced technical workers had make Yi Chuan known all over Malaysia that made the most reliable goods hoist with most number of safety features.
Our goods hoist also known as reliable, full of safety and easy to use.
Design, safety features and strength approved by DOSH.
Suitable to be installed at warehouses, factories, service line and shop lots.